Rhys & Shanna's Travels
Adventurers, Content Creators, Social Media Marketers, World Travelers, Beach Lovers, and Drone Enthusiasts!
Taking on the World, One City at a Time...
We are Rhys & Shanna Truscott, a husband and wife team from Gold Coast, Australia and Dallas, Texas. We founded Wild and Free Travel in 2016. We are content creators and social media influencers/marketers that are passionate about travel. By documenting our adventures around the world and broadcasting our content to our more than 250,000+ followers, we have been able to positively influence properties, travel-chains, products, and activities all around the world.
Travel History
Rhys and Shanna have traveled extensively in Australia, United States, Asia, and Europe! Shanna has lived abroad multiple times including 6 months in South East Asia, 1 year in Australia, and 7 months in Europe. Rhys has lived abroad in America for the past three years as we are both in the visa process, but is a resident of the USA now! They don't make being together from different countries easy, but we knew we'd be chasing each other around the world regardless! We have explored UAE, Thailand, Indonesia, Cambodia, Vietnam, Australia, Fiji, Greece, Czech Republic, Austria, Hungary, Romania, China, America, Nicaragua, Guatemala, Belize, Mexico, Canada, South Korea, Philippines, Japan, England, Ireland, Italy, Switzerland, France, Netherlands, Belgium, Germany, and Iceland! Our plans for 2019 involves exploring more of America, Europe, and Australia! We hope you keep following our adventure!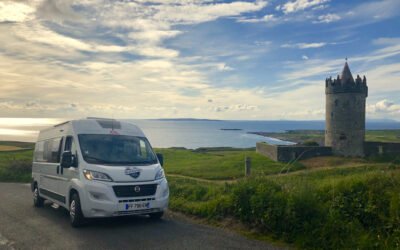 Ireland is a country that needs to be explored by a campervan for many reasons. There are so many amazing campsites scattered around Ireland making it an idyllic place to camp. We got to live out our dream of "owning" a Sprinter Van thanks to @blacksheepvan and...
Our Upcoming Trips
We are back in the USA for the next 6-9 months but let's be honest, you never know where we will end up next. Stay tuned for our next adventure!
Are you a Tourism Board, Hotel, Resort, Badass Airbnb, Brand, or Travel Product? Would like to be featured on our Facebook page with the chance to go VIRAL and seen by millions?
If so, send us an email at [email protected] for collaborations!
Travel Videos
Ready to daydream and wanderlust? You need to watch our videos then!