Ireland is a country that needs to be explored by a campervan for many reasons. There are so many amazing campsites scattered around Ireland making it an idyllic place to camp. We got to live out our dream of "owning" a Sprinter Van thanks to @blacksheepvan and @retroventures!
We had one week to adventure around in their FIAT Ducato Adria Campervan Explorer. It was the perfect size for two people and even had a shower, toilet, and kitchen! It is crazy what they can pack into a 6-meter campervan. It has everything you could ever need!
We mapped out our 7-day itinerary around Ireland which covered over 700 miles. This route took us past all the highlights that western and southern Ireland had to offer.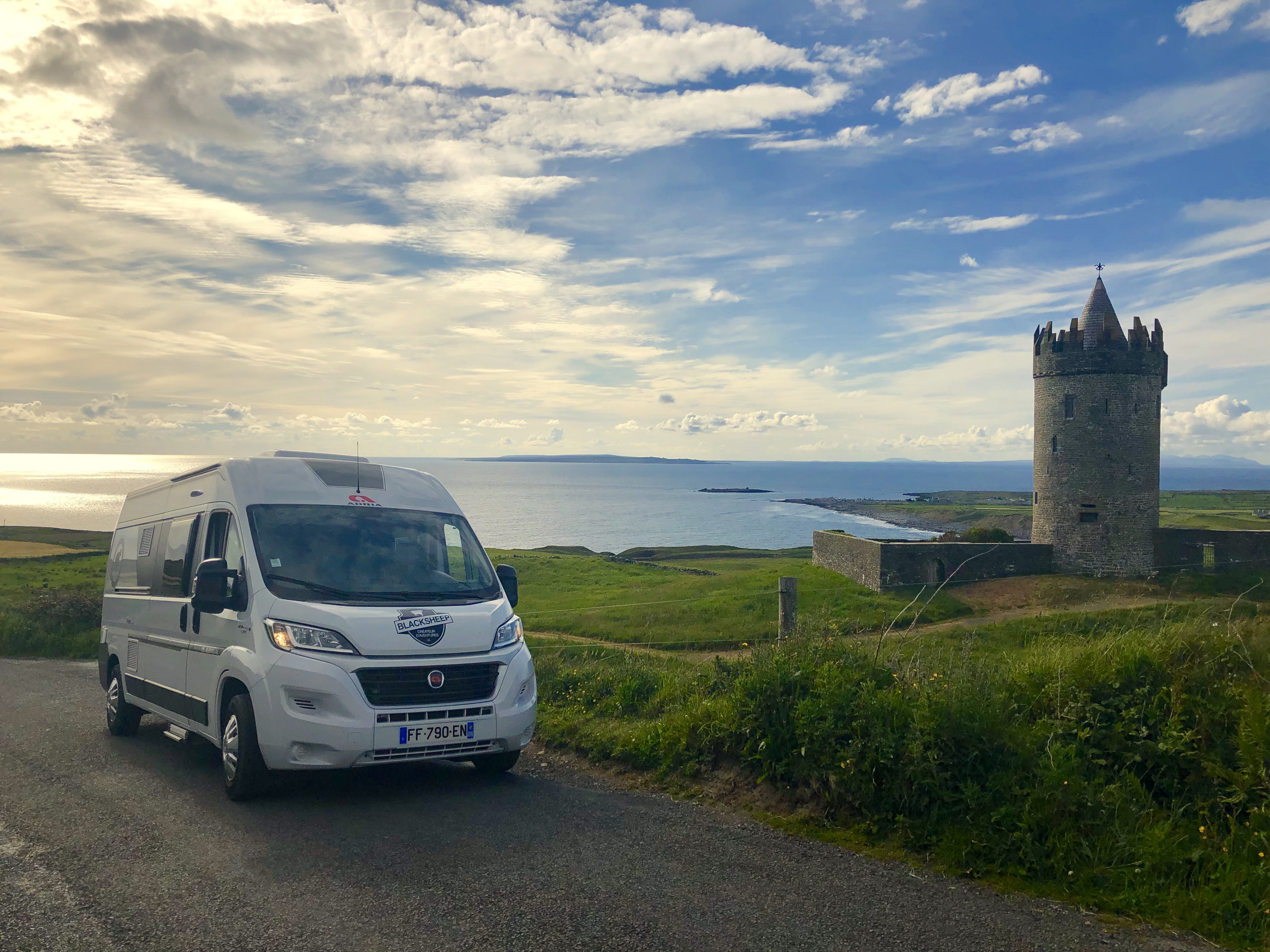 Day 1- We picked up the van from @retroventures at 9 am so that we had a full day of exploring ahead of us. Our plan for today was to drive 1.5 hours north to the Cliffs of Moher. Yes, it is super touristy, but it is a must-visit when in Ireland.
We booked two nights at Nagles Camping & Caravan Park so that if the weather was bad one day, we'd have a backup day that would hopefully have good weather. The Cliffs of Moher are known to have crazy unpredictable weather, so we were not sure what to expect.
We arrived at our campsite and had the best weather possible, for Ireland at least. The sun was shining, no wind, and the perfect temperature. Even the locals said we lucked out on the weather!
We decided to hike down to the local pub which was about a 15-minute walk to try some local beer and cuisine. We had our hearts set on some Beef and Guinness stew, and it did not disappoint. It was everything we imaged and then some.
The meal portions in Ireland are massive, so one meal was more than enough for both of us to share. This is a great way to save money along the way because meals weren't cheap. A pub meal cost on average €25 for a main dish and a drink.
One of my favorite parts about the Irish pubs is the beer and whiskey culture. They love their Red Ales which are my favorite. Then you have the whiskeys. Trust me when I say there are so many choices to choose from. It is safe to say they love their whiskeys too.
After a delicious lunch, it was time to drive down to Burren Geopark to go for a hike along the cliffs. We were able to park at a farmer's house for €3 verses the €6 per person that the Cliffs of Moher parking lot charges. It was about a 15-minute hike to the cliff's edge and was breathtaking to lay eyes on. We hiked around, filmed some epic shots, and relaxed at the cliff's edge soaking up the views.
There are several options in terms of hiking the Cliffs of Moher. One of the hiking trails that is the most famous is the trail from Doolin to the Sea View House that is 8 km long. It takes about 2 hours each way to hike it and offers breathtaking views along the cliffs. The hiking trail keeps going from the Sea View House to the village of Liscannor. This is another 10 km of hiking you could opt to do. However, if you are limited on time then the 8 km hike will be worth your while.
To finish off the day, we decided to catch the sunset at Doonagore Castle. This round 16th-century tower house has an amazing backdrop of the ocean and green rolling hills. The sunset was directly over the ocean in front of us.
We found a pullover spot that was the perfect size for the van. We decided to spend the next couple of hours shooting content and enjoying the colors the sky was turning. It was exactly how I imagined Ireland to be.
Day 2- All good weather has to come to an end, and we were blessed for the weather we had on day 1. Today, however, was a different story. There was wind and pouring down rain for 80% of the day.
We braved the weather once, which was to run to the pub for lunch. They had live music playing, which was a group of 7, all playing different instruments. The music was traditional Irish music and was interesting to hear with the pub's atmosphere.
The rest of the day we relaxed to the noise of the rain on the campervan. It was peaceful to hear.  Where we were parked had great views of the Cliffs of Moher making it even better to Netflix and chill. We called it an early night as we had a big day planned the following day.
Day 3- Next stop on our Ireland adventure was the road know as the Ring of Kerry. This coastal road on Ireland's Iveragh Peninsula is 111 miles long with lots of amazing stops and campsites along the way. Since we were in a campervan, we made sure to research the roads and places we wanted to visit before we went. We had learned after driving an RV through Europe that some places are just not possible to see in a big vehicle. Luckily, the Ring of Kerry can accommodate campervans and small RV's. Full-size tourist buses can fit on the roads though it can be a tight squeeze at times. 
It is recommended if you are in a campervan/small RV to travel in the same direction as the tour buses. All the tour buses have to travel in an anti-clockwise direction.
When renting a car most people will tell you to go clockwise, so you don't get stuck behind the buses. However, you don't want a massive tour bus coming head-on with your campervan, so it is best to be patient and go in the same direction as them.
We drove in an anti-clockwise direction and didn't run into any issues with tour buses or traffic. We tried to time things when the tour buses weren't in specific spots so they wouldn't be crowded. We felt we didn't have to deal with too many "tourists" during our time here.
We had a 4-hour drive from the Cliffs of Moher to the Ring of Kerry. It was mostly highway until we got closer to the peninsula road. That is when the roads started to get narrower. We drove through small villages, to the cliffs edge ocean drive where we stopped and soaked in the beauty of the Irish coastline. 
We made it to our next campsite, Mannix Point Camping and Caravan Park. We instantly fell in love with the views it offered. We had a waterfront campsite overlooking the Gulf Stream Coast. In our opinion, it was the best spot in the whole campground. We popped out our table and chairs on the lush grass and enjoyed the sunny weather. We even saw adorable seals swimming past. 
Since the campervan had a kitchen, plus a huge fridge, we decided to cook our favorite dish, Pad Thai. It is a quick but delicious meal that we found easy to make in the campervan. We ate our dinner to stunning views of the sunset. By the time it had fully gone down, it was after 10 pm and it was time to call it a night.
Day 4- It was a day of driving around in the campervan exploring Valentia Island, Portmagee, and the Kerry Cliffs.
Valentia Island is Ireland's most westerly point located on the Wild Atlantic Way. There is a lot of beautiful nature to discover on the island. Not only is the nature diverse, but the island has a rich history as it was the birthplace of global communication.
This island is where the first successful transatlantic telegraph cable was laid between Ireland and Canada. This changed the way we communicated and is the reason for advancements in the telecommunication realm.
We crossed the bridge from Portmagee onto the island and drove up to the first viewpoint. It offered breathtaking views of the coastline and the Skellig Islands. This was the start of the Bray Head Loop which is a 2-hour circuit loop offering a breathtaking cliffside coastal hike. If you have time, I highly recommend taking a hike here if the weather is permitting.
The next stop was the slate quarry which dates back to 1816. This part of the drive was when the roads started to get narrower. Being in a transit van versus an RV really made the difference in being able to access some places. We found the transit to be compact for these small roads making it a lot easier to get around.
From the slate quarry, you can see the massive caves where they still mine slate today. There is also epic views of the coastline and lighthouse. We decided to venture down to the lighthouse next. This road was the smallest yet, but slow and steady wins the race. We are glad we decided to go down there as we found a beautiful spot to pull over on the ocean's edge. We cooked breakfast (yum cheese toasties), played on the rocks, and checked out the lighthouse.
The island is pretty small and can be driven around in 2 hours or so with some stops along the way. We got back to the bridge to cross back onto the mainland and had built up an appetite.
We found street parking for the campervan in Portmagee and decided to walk down the colorful village. We found a pub and split a fish n chips and Guinness. No trip to Ireland is complete without having a shot of whiskey and a Guinness… Just saying!
Now, it was time to go hike off the food and beer. We headed about 15 minutes away to the Kerry Cliffs. There is a huge parking lot so no worries if you are in a campervan. It cost €4 per person to enter the cliffs and is totally worth it in our opinion. You hike 10 minutes uphill to the cliff's edge and are rewarded with remarkable views. You can easily spend 1 hour here hiking around to the different viewpoints.
We were getting tired at this point as we'd seen and done a lot today! We headed back to the campsite and planned on cooking dinner to the sunset views. We just loved this camp site's view. We lucked out another day of good weather and got to watch the sun duck below the green grassy meadows and bay.
Day 5- We kept heading along the Ring of Kerry road today to our next campsite, Wave Crest Caravan and Camping Park. It was only a one-hour drive from our previous site. We decided to check into our site that morning to save a spot for later and grab the gate key. We scored another amazing camp spot with more epic sea views!
Our plans for the day was to head through Killarney National Park to the town of Killarney. This took drive was scenic, to say the least, with grassy and rocky mountains in every direction. Some must-see places in Killarney National Park are Torc Waterfall, Ladies View, Ross Castle, Kissane Sheep Farm, and Muckross House.
We spent about an hour at Torc Waterfall and an hour at Kissane Sheep Farm. The sheep farm was a cool experience to see how the farmers shear the sheep and how the cattle dogs do their daily work. The dogs could be controlled by a low whistle from the farmer telling it which direction to go next. This was worth the €7 to see. We even got to pet some adorable sheep!
We got to Killarney just in time for dinner. We found a gastropub called Celtic Whiskey Bar & Larder. They had the biggest selection of whiskey I'd ever laid eyes on. The server said there were over 1500 different types… We opted for the fillet steak and it was the perfect tenderness. It is exactly what was needed after a long day of exploring.
We had a bit of a drive ahead of us to get back to the campsite. We were hoping to make it back before dark. Luckily, made it back to our site with about 10 minutes to spare before nightfall. We had a successful day and were excited to wake up to the ocean views in the morning.
Day 6- We planned to finish off the Ring of Kerry road today and headed to our next campsite, Eagle Point Camping. We left midmorning in order to make it to the town of Kenmare for lunch. This colorful town is located at the head of Kenmare Bay. There are tons of boutique galleries, craft shops, and good-quality restaurants. It is a great town to take a stroll in and grab a bite to eat.
We kept heading south to the town of Reendesert. This peninsula town is where our next campsite was. It again offered amazing bay views! We arrived and set up our chairs and tables outside on our little grass patio overlooking the water.
We then whipped out our disposable BBQ, which we have found quite convenient in the past, to cook up some pork chops and veggies. A sunny day, ocean views, plus a BBQ is the best way to spend any day. We enjoyed the sunset from the campervan and called it a night as we were getting up to drive to Blarney Caravan and Camping Park the following day.
Day 7- We knew a visit to Ireland wouldn't be complete without visiting the Jameson Distillery. We booked our tickets online the day before so that we could hop on the first tour of the day at 11 am. We had a 1.5-hour drive from our campsite to the distillery. This drive took us through Ireland's green countryside just east of Cork to a town called Midleton.
The distillery tour took a little over an hour and ended with samplings of different whiskeys. Included in the tours ticket was also a free spirit at the end in the Jameson's Bar. This is where we found our favorite Irish drink. Jameson with ginger ale and lime. Try it and thank me later. We were really impressed with the tour and found it was worth the money. There is also campervan parking in the parking lot next door to the distillery. There were signs up saying you could camp there up to 48 hours for free. 
After the distillery tour, we wandered around the area, grabbed a coffee, and headed for campsite number 5. This sadly was the last campsite of our trip. It was close to Cork and Blarney Castle which we planned to explore. 
The evening was spent walking around the very small town of Blarney. We went to the local pub, which was old and beautifully designed and grabbed one last Beef and Guinness stew before we left. It by far was our favorite Irish meal.
We had an early night as we planned on waking up at the crack of dawn to make the most out of our final day in Ireland.
Day 8-  We didn't want to have to take the campervan back today. We were definitely in love with it and the size, plus the compactness of it. We feel if we were to ever buy one, this one would be the one! Our flight wasn't until 7 pm so we had all day to make it back to @retroventures shop. We drove into Cork mid-morning and was able to find street parking a couple of blocks outside of the main area. We had a wander around and found a Texas BBQ place called White Rabbit Bar & BBQ. Since we hadn't had any good BBQ in over 5 months, we thought it was worth a shot as it sounded delicious.
It was average but had me dreaming about being back in Texas. Nothing compares to Texas BBQ, but it held us over until we could return to Texas.
We were debating at lunch about going to Blarney Castle, but the price and the weather deterred us. Instead, we visited Blackrock Castle Observatory which was free to view from the outside and a neat castle on the river. After this, we started our one-hour drive back to @retroventures shop which is located near Limerick. We saved the last two hours before returning the campervan for packing and cleaning. In all honesty, it only took about 30 minutes to do this as we kept our luggage to a minimum and tried to keep the camper as clean as possible. It was easy to do as it is a small space. We had to say goodbye to our home on wheels to catch our flight back to London.
We found Ireland to be a beautiful country with very friendly locals, great food, and amazing unspoiled nature. We want to give a huge thanks to @BlacksheepVans and @RetroVentures for making our adventure possible. We highly recommend getting around in a campervan in Ireland as there are so many amazing campsites and places to visit.