Europe is a massive continent with 44 countries to explore. The road and train network are vast in these areas so it would make sense that most travelers would choose to get around this way. 
However, we got to experience traveling through Europe from a different aspect. We got to explore 2,500 miles in Just Go Motorhome's "Scout" RV. Traveling through Europe in a RV is such a unique way to see multiple countries.
Our "EuroLease" experience started off by us flying from London, United Kingdom to Pisa, Italy. We stayed one night at an Airbnb in the city so that we got to see the Leaning Tower of Pisa. We wanted to attempt to make a perception shot with the Tower. I'd say we nailed it! Leaning Tower of Pisa ice cream anyone? 
Since we have RV'ed before, we had a good amount of knowledge of what it entitled and what to expect. However, since this was a last-minute adventure, we were going into this without any real set plans. Usually, no plan is the best plan in our eyes. We had a rough outline of the places we wanted to visit though. We had seventeen days to get the RV from the 'Just Go' factory in Tuscany back to London.
The next morning, we hopped on a train from Pisa Central to Poggibonsi Railway Station. This was a quick one-hour journey that offered beautiful views the whole way. Then from there, we took a 15-minute taxi ride to where our home for the next two and a half weeks awaited.
Once we arrived at the factory, we saw a sea of RV's and were excited to tour our new home. We finally laid eyes on our RV that was 7 meters long and brand new with a whole 14 miles on the engine. We had our briefing on how everything worked, signed the paperwork needed, and headed off for an adventure of a lifetime!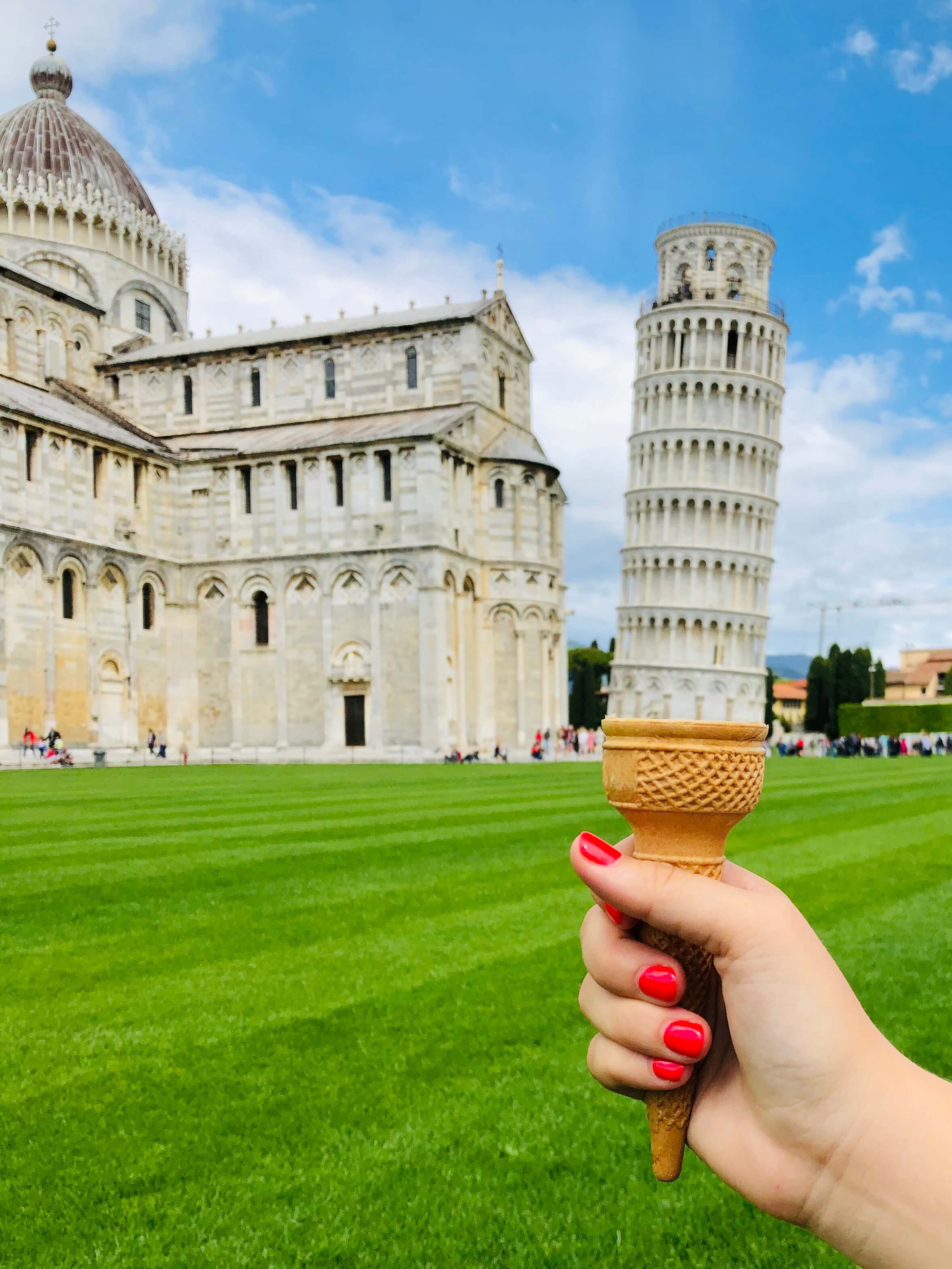 The next seventeen days was epic, and a dream come true! Here is a detailed itinerary of what we did, where we stayed, and some good advice we picked up along the way:
Day 1-
We picked up the RV, stopped at the supermarket for supplies and food, and headed to our first campsite of the trip. We planned on spending two days exploring what Florence, Italy had to offer. We found the perfect campsite only a short 15-minute shuttle bus ride to the city called Firenze Camping in Town.
It was a very well-maintained campsite with a huge resort style pool. Unfortunately, it was still too cold to swim when we arrived. There is also an onsite restaurant and bar which was a great place to get a morning coffee at. We settled in the first night, unpacked, and fell asleep eager to go explore the next day!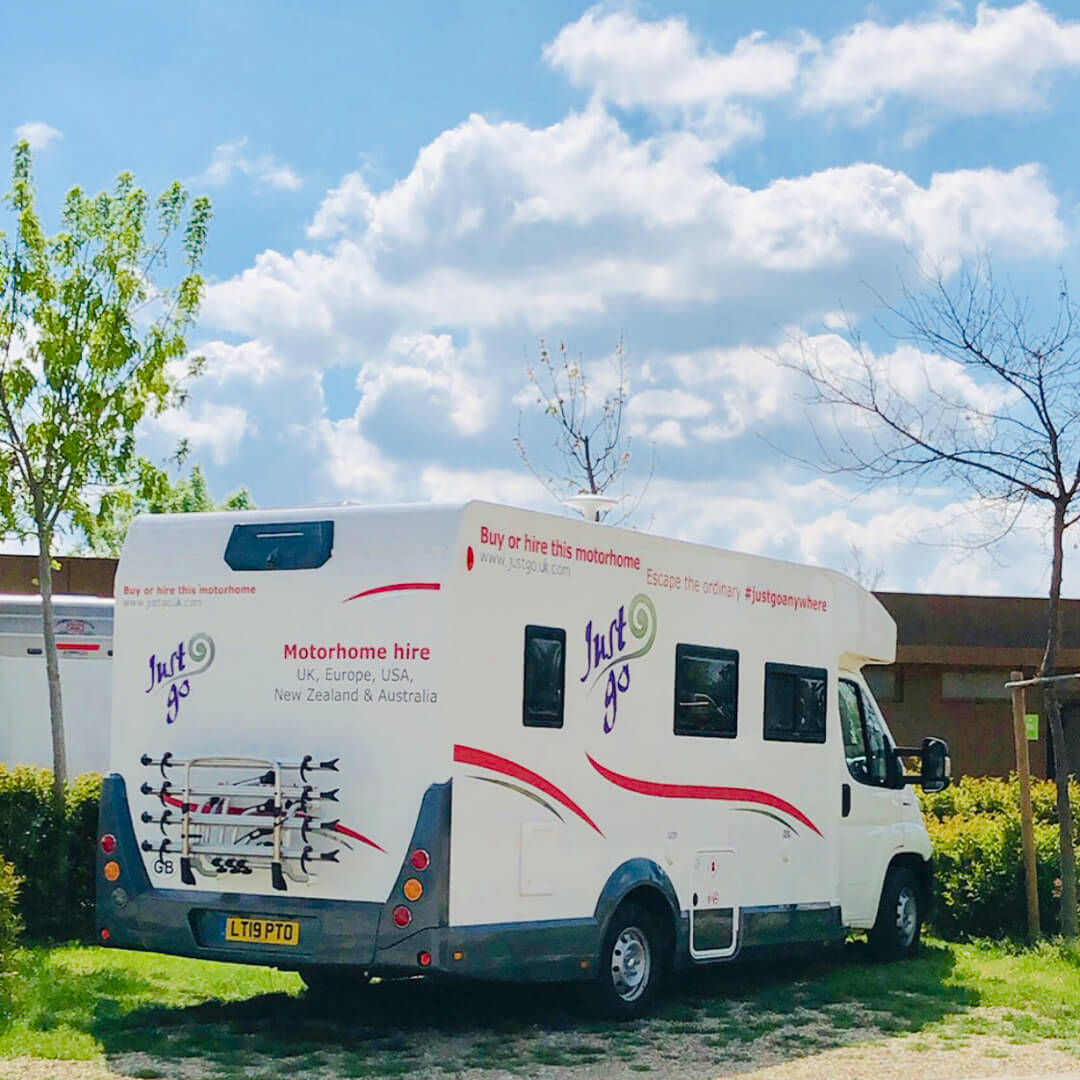 Day 2-
We had a day of exploring the local icons around Florence. There are so many narrow streets and alleys to get lost in. This is where we found some of the most amazing architecture and wine bars! We built up an appetite and had lunch in front of the Church of Santa Croce! It was a great people watching spot. I had been anticipating lasagna since I landed in Italy and finally got to have my favorite dish!
We had a lot more walking planned for the day, so I grabbed my one-euro cappuccino and we headed off to visit Ponte Vecchio. This medieval stone arch bridge spans over the Arno River and is considered one of the most famous bridges in the world. It is truly a piece of art to look at. You can even take a stroll and check out the shops located on the bridge.
Another famous structure of Florence we visited was the Cathedral of Santa Maria del Fiore. It is often referred to as the Duomo di Firenze. The dome towers high above the city and can be seen from a lot of different viewpoints. It is considered the largest masonry dome in the world. Plus, is the third largest cathedral in the world! The neo-gothic pattern on the cathedral is breathtaking and so unique. You need to see this place with your own eyes!
Other places we wanted to visit while in Florence but ran out of time includes Palazzo Vecchio, Galleria dell'Accademia to see the statue of David, and The Uffizi to see The Birth of Venus.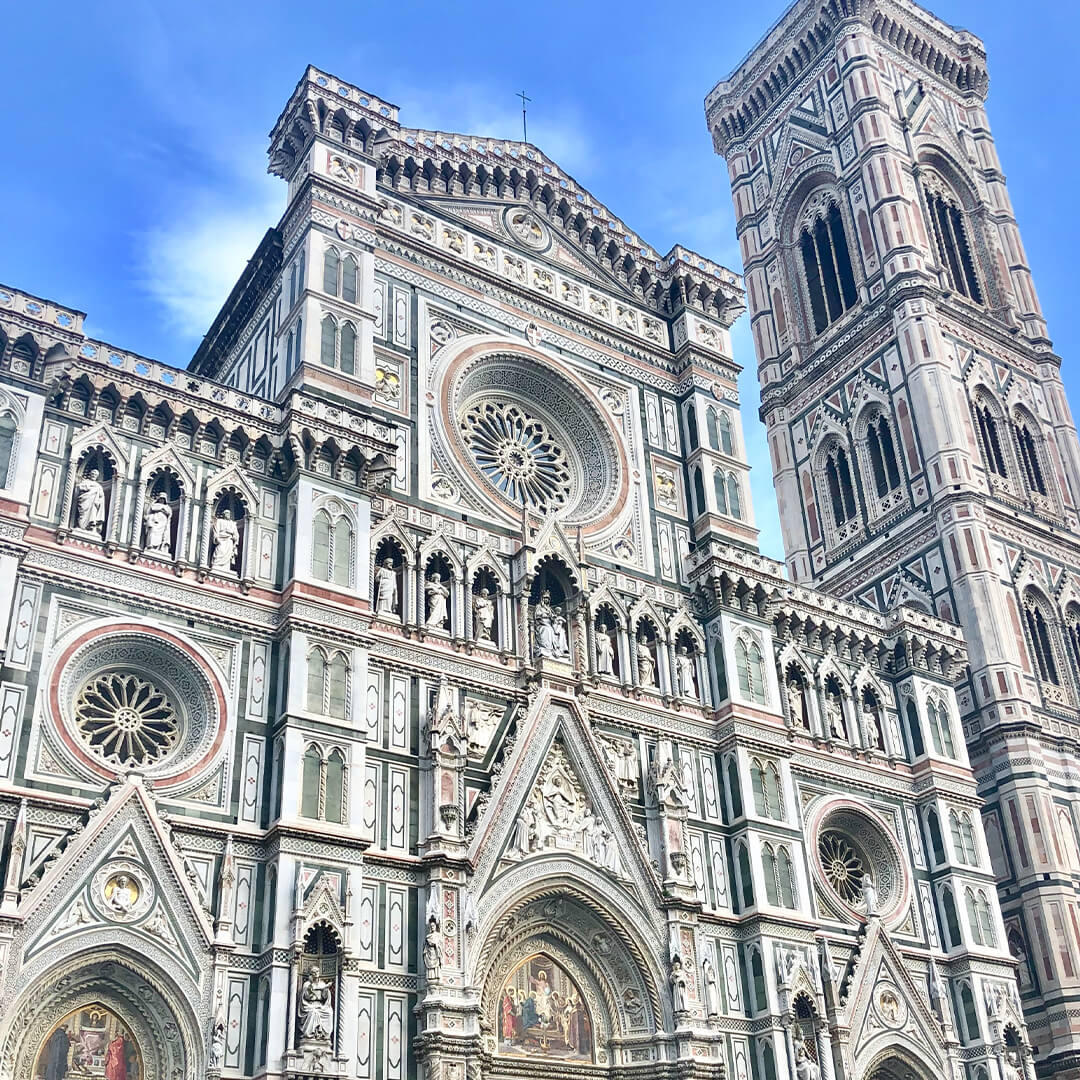 Day 3-
The one thing that had been on our bucket list while here was to Vespa Scooter ride around the Tuscan wineries, and we made sure to book it for this day. We arrived to pick up our Vespa at 9am and had a full day of riding to different wineries and seeing the Tuscan countryside planned out.
Our Vespa's came with a GPS of pre-planned routes which made figuring out where to go a breeze and stress-free. We drove past lavish landscapes, beautiful villages, and lush wineries. We made it to Fattoria Lavacchio Winery just in time for lunch. This place had amazing views of the rolling green hills and great wine! It even features a pink windmill on site. It was worth the 1.5-hour drive to it.
After being blown away by the scenery, we ended our day at, Piazzale Michelangelo. This lookout sits high on the cliffside and offers amazing views of Florence. This area is one of the finest places to view the entire city and cathedral.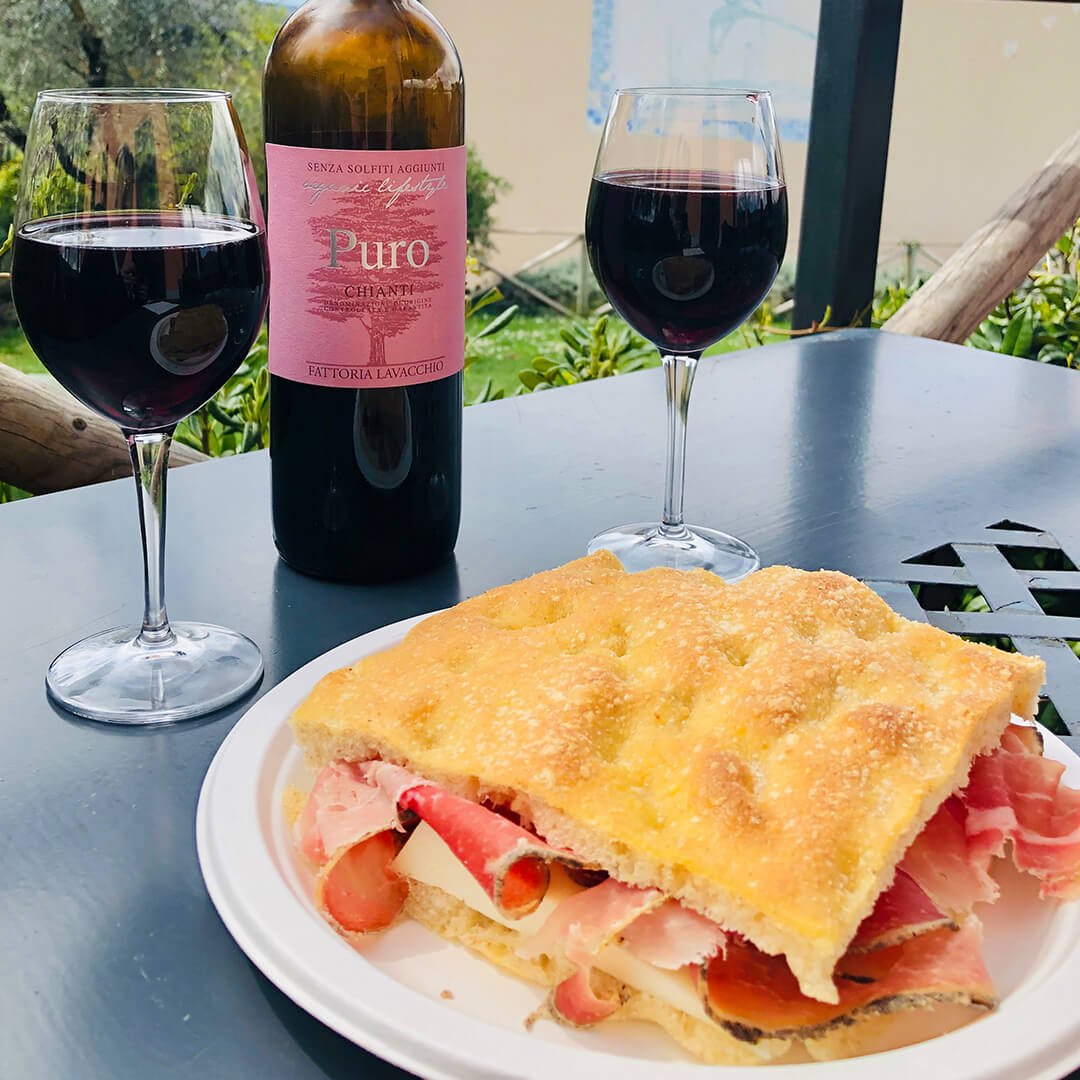 Day 4-
Venice, Italy was calling our name… We packed up the RV (remember to always unplug the electric and turn the gas off before leaving) and started our 3-hour drive to Venice. Our campsite, Fusina Camping & Dock, was directly across the water from Venice offering picturesque views. They even offer a ferry service (20-minute ride) into the heart of Venice which was super convenient.
We got spoiled with great views of Venice from the RV windows. Since the weather wasn't agreeing with us, we decided to open a bottle of Italian wine, cook a good dinner, and relax the rest of the evening.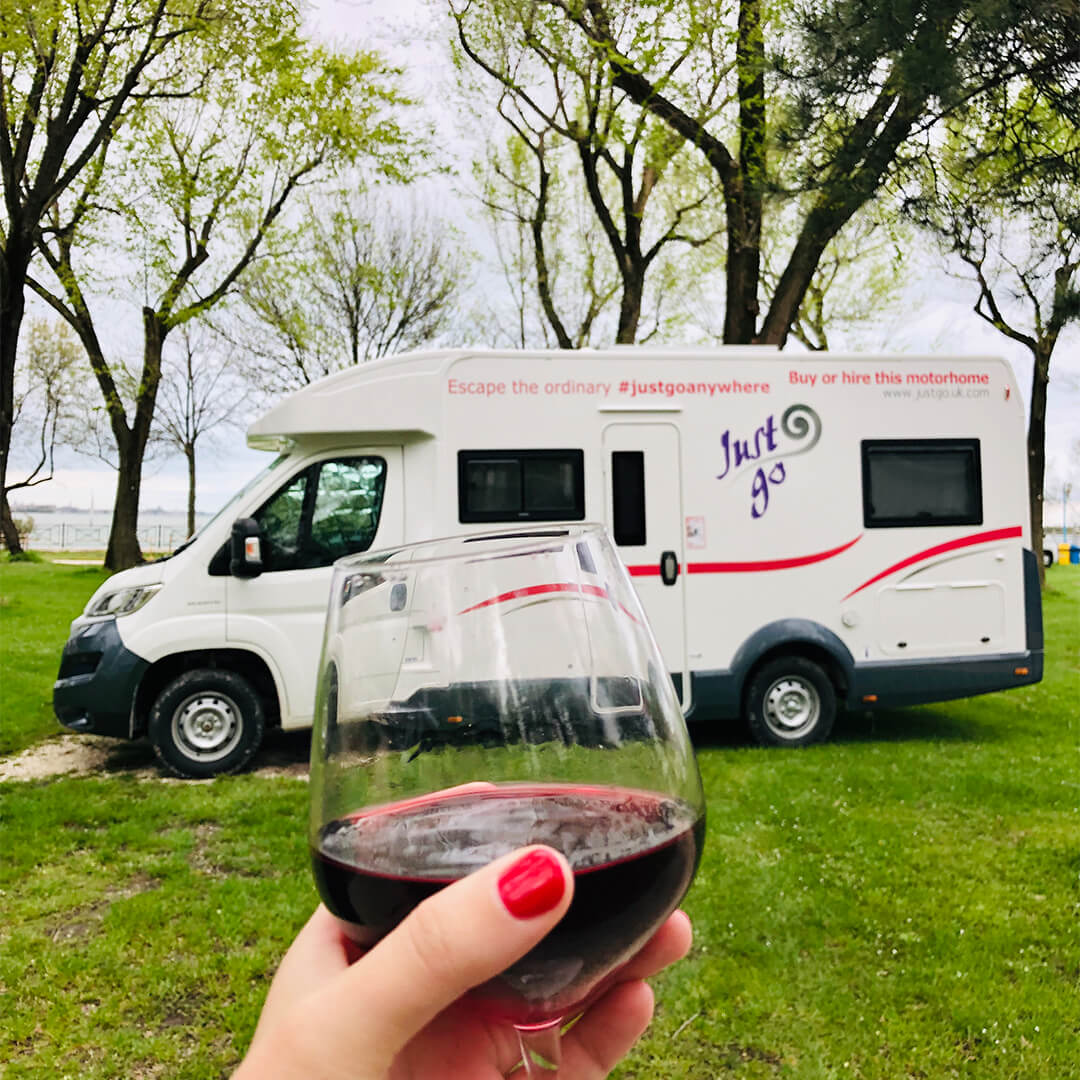 Day 5-
We were so excited that the weather had cleared up and were ready to go explore Venice. Our best advice is to just wonder around the canals. Some of the areas were super packed, but we managed to find some peaceful places. It was so fascinating to see the singing gondola men and is exactly how I pictured it to be but even more amazing to see in person!
After zig zagging in and out of the canals we ended up at Al Gazzettino for lunch. This place is highly rated on Trip Advisor and we can understand why. The food is top notch and we highly recommend eating here. It fills up fast so get there early or make a booking ahead of time. The lasagna and carbonara were on point.
Every inch you explore of Venice will amaze you with stunning bridges, statues, and boats. We took the rest of the day popping in and out of local shops, eating gelato, and snapping as many photos/videos as we could of this place! It is a photographers dream location.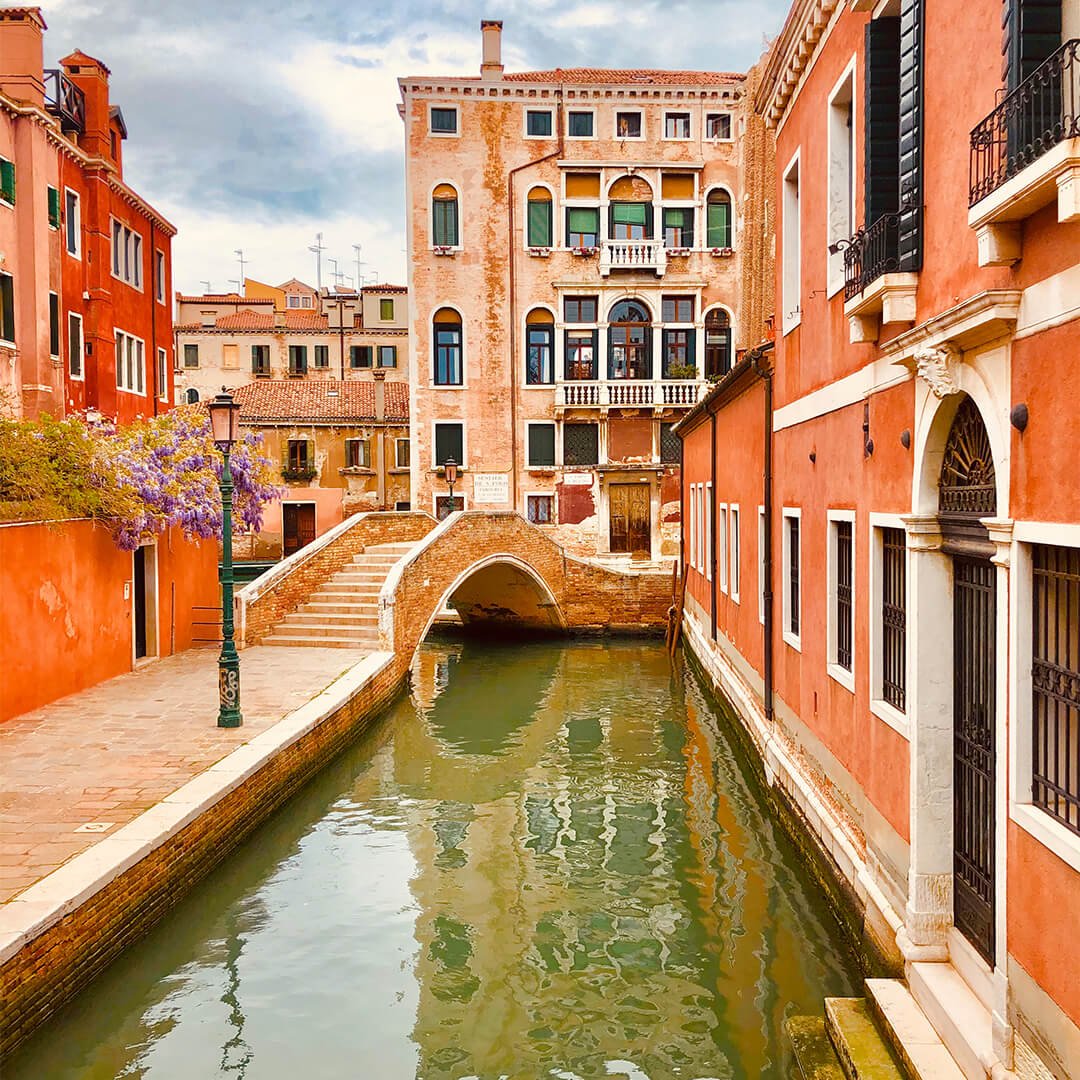 Day 6-
It was time for the next 3-hour drive. We were headed to The Dolomites! This mountainous region is located in northeastern Italy coving over 350,000 acres. It is a nature lovers paradise with tons of hiking, biking, and skiing trails to choose from.
Being one of the least traveled places in Italy, you feel very at peace and don't have to deal with the herds of tourist like in Venice. It felt so untouched and a great place to enjoy the outdoors.
This drive was so scenic, taking us high into the Italian Alps. Halfway through the drive we passed thru Auronzo di Cadore. This is where we experienced our first snowflakes of the trip. We were a bit nervous about driving in snowy conditions in the RV but came prepared with snow chains if we needed them. We snapped some quick photos in the snow and kept on our way. Luckily, we never had to use the snow chains during this drive.
We kept driving through Dobbiaco which is a region of the Dolomites. This is a great area to see some of the jagged peaks of the mountains. You could never get bored on this drive as there is lots of photo opportunities and stops along the way!
We ended up at Toblacher See Lake to admire the crystal-clear water with towering mountains all around. We grabbed a drink on the restaurant's patio and soaked in the beauty.
We arrived at our next campsite, Camping Olympia. We came during the low season, so things were very quiet, and a lot of activities and shops were closed. This was due to the ski season being over since the snow had begun to melt. However, it was still snowing, just not enough to ski. We enjoyed the snowy views the rest of the evening. We went to bed excited to see how much snow would be on the ground when we woke up.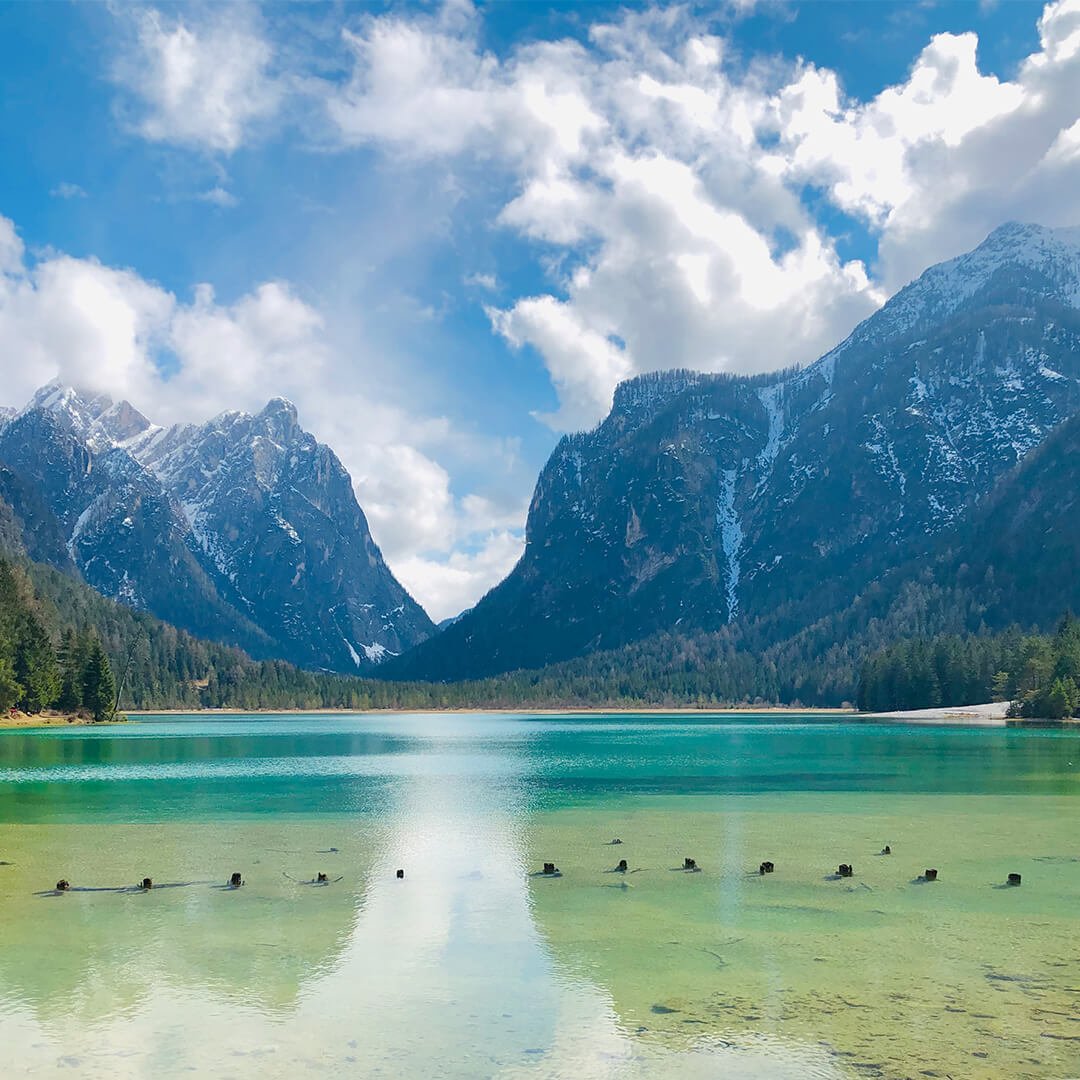 Day 7-
We woke up to no real set plan for the day. However, the ground was covered in white fluffy snow. By mid-morning, the snow had already started melting again… We had planned to go sledding, but unfortunately it was already closed for the season.
We made breakfast and headed out in the RV to explore some nearby lakes, mountains, and villages. The area seemed very RV friendly which was convenient in terms of parking. 
We drove around stopping in picture-perfect locations along the way. There was a lot of mountain drives to choose from that were all very scenic. We decided to head down the SS51 to track down some amazing places. And I must say, we found a lot of them!
As the sun started to go down, we pulled into our campsite for our last night there. We had a full day planned for the following day, so we had an early night.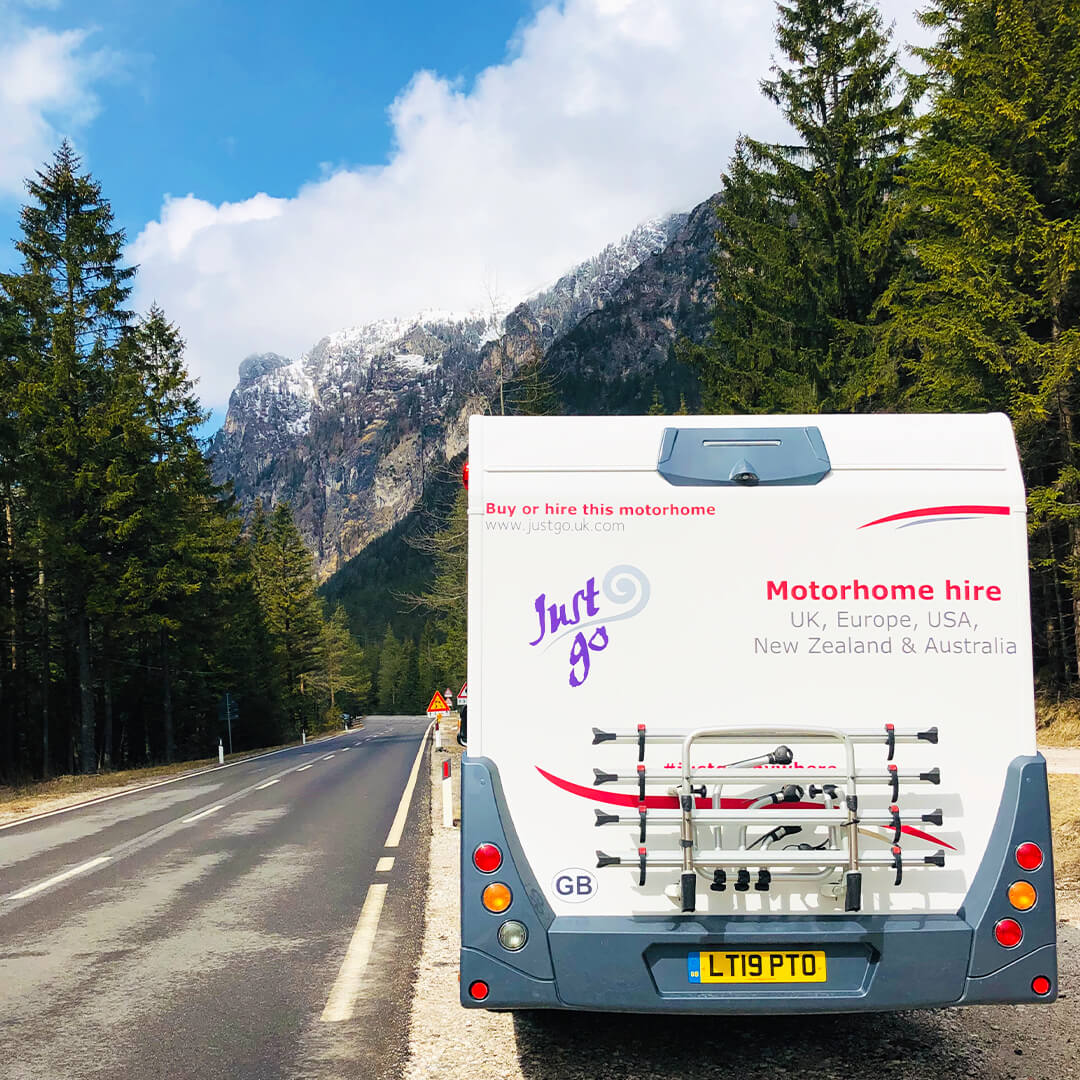 Day 8-
We woke up at the crack of dawn in order to go to the one spot that really caught our eye. This place has gone viral numerous times and for very good reasons. It is just breathtaking. This place is called "Instagram Lake", but also known as Lago Di Braies.
We had high hopes of seeing this beautiful place, but our hopes got crushed as soon as we walked up onto the frozen lake… We thought being spring, that the lake would have been like it was in the pictures. But NOPE. Frozen solid and covered in snow! It was still beautiful to see, but not like how the photos made it look.
Our best advice is to make sure it isn't frozen before you go. We just assumed since the other lake wasn't frozen that was close by, that this one wouldn't be either. There is a great walking track around this lake when there isn't snow.
We hopped back in the RV, disappointed, but with how amazing the sunrise views were, we got over it very fast. It just gives us a better reason to go back again!
We continued on our way with the final destination being Lake Como, Italy. The next stop was the Church of San Giovanni. This picturesque church features the towering Dolomites behind it. The green meadow with the mountains in the background makes it postcard worthy.
It was a bit tricky to get the RV here as the roads were narrow, but luckily there weren't many cars traveling on this stretch of road. We even found parking for the RV near the viewing platform. Please keep in mind, don't walk on the meadow to help preserve the land. This is a must-see while visiting the Dolomites in Northern Italy.
Since we left at 5am, we still had a lot of time to explore. We had about 4.5 hours left of our drive and planned to head to our next campsite which offered spectacular lake front views of Lake Como.
Once we got about 45 minutes from the campsite, we realized the roads kept getting narrower and narrower… Until finally, it got to the point that these "two landed roads" were the size of one lane roads. Since we were in a RV this was very nerve-racking, to say the least. We had to honk going around corners and drive very slowly.
The last 20 minutes of the drive were the worst, even though we had this beautiful cliffside lake drive it was hard to enjoy. We couldn't have been more relieved to make it to the campsite. We got to park about 10 feet from the lake which gave us the best views of Lake Como to watch the sunset.
We had dinner at the restaurant on site and called it a night after a long day of driving. We definitely needed a drink or 3 after that drive. We found out very quickly that Lake Como isn't RV friendly, but beautiful none the less.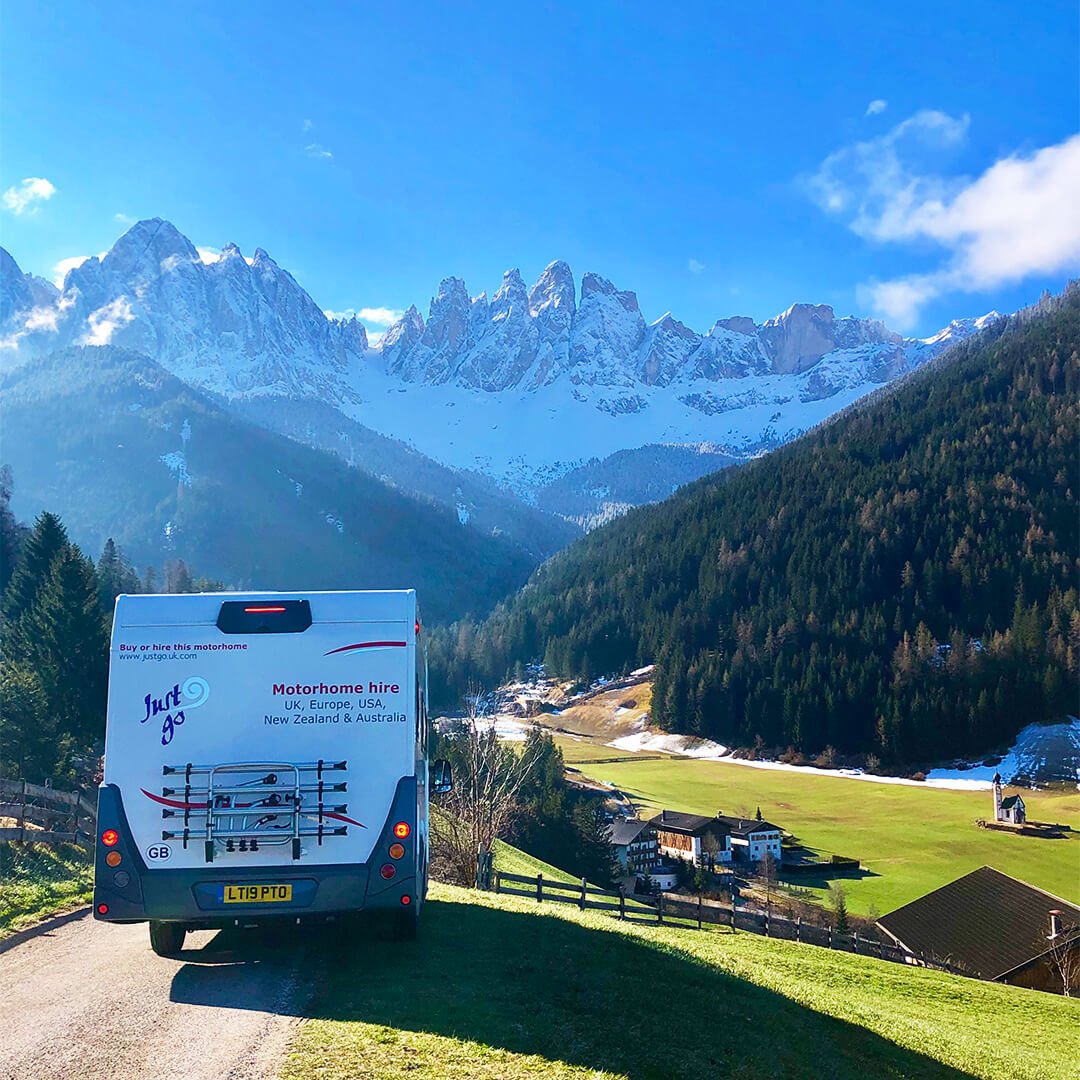 Day 9-
Our dreams of going to Switzerland were about to be accomplished today!
We woke up early to catch the sunrise over Lake Como, which turned out to be epic! The sky turned all sorts of beautiful colors over the course of two hours. Once we sun popped up, we headed on our way to Interlaken, Switzerland which was 3.5 hours away.
We had no campsite booked for this night but found one during the drive. Once we pull in, we realized the site was closed that week. Luckily there was a campsite called Camping Lazy Rancho 4 that was right down the road that had availability. So, we called that home for the night.
From our campsite, you could watch the paragliders, which is a popular activity to do in Interlaken. It was a wicked site to see with handfuls of people gliding above you. The campsite was nice, but a bit far away from the city center. We decided to relax at the campsite for the rest of the night and enjoyed the mountainous views.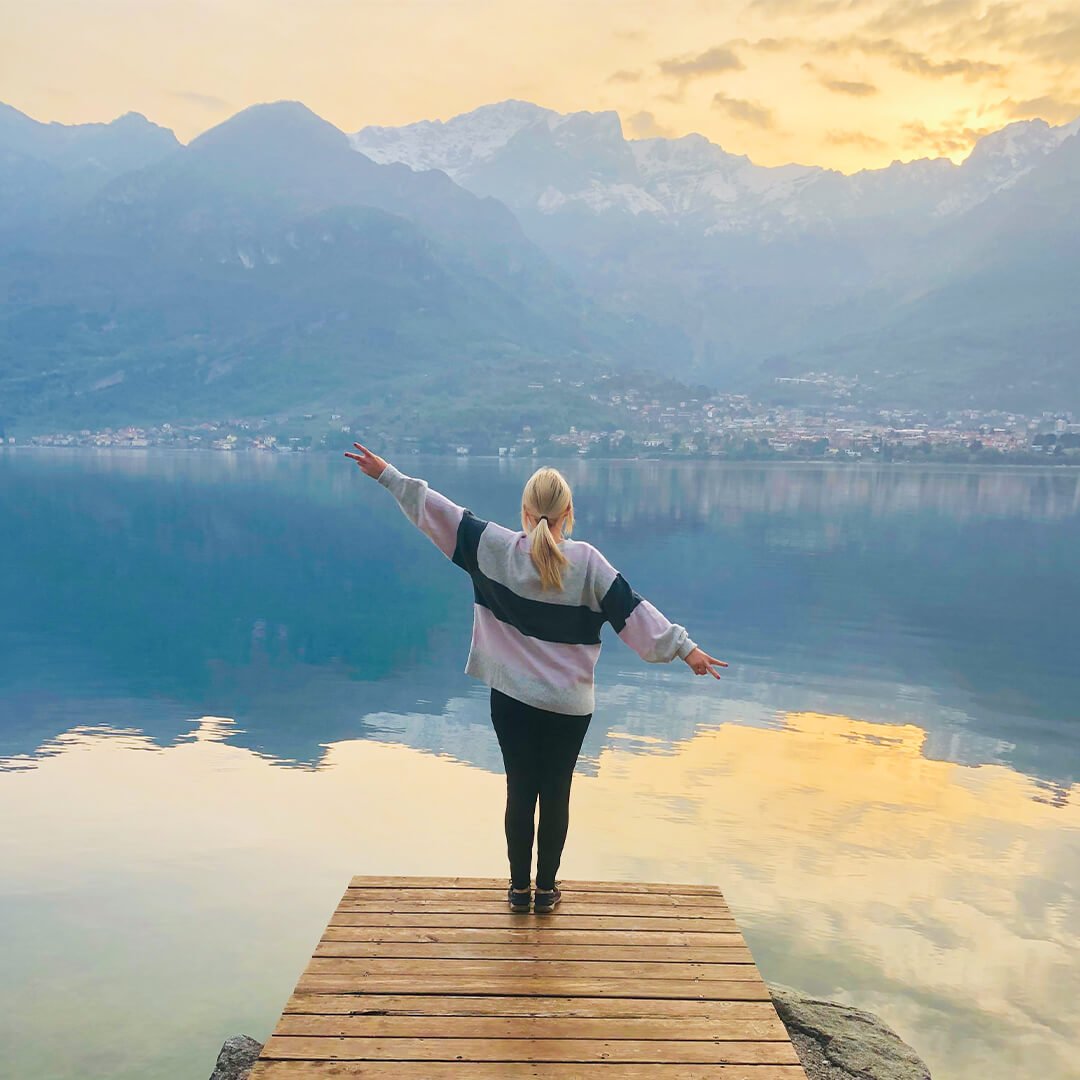 Day 10-
We decided to move campsites today. We had found a campsite called Camping Jungfrau Holiday Park and fell in love with the views of the waterfalls it offered in Lauterbrunnen, Switzerland. We decided to book 3 nights here as it was a great base to visit all of the cable cars, gondolas, and funiculars in the Swiss Alps.
We headed off for the day but decided to stop in Iseltwald, Switzerland first for an early lunch. This little village sits on the edge of Lake Brienz. This lake is the bluest and most beautiful lake that we had laid eyes on making this village just majestic. We hiked around and strolled down near the lakeside. We highly recommend visiting here, even if it is just to hike around or grab lunch. You will be amazed.
Once we arrived at the campsite, we realized it was even better than the photos! We got a spot that was situated so that we could easily see 7 waterfalls dropping off the cliff edges that surrounded us. We couldn't get over the views. Plus, we had a peaceful flowing river directly behind our campsite. This was paradise.
We gather brochures and information from the helpful front desk lady to figure out our next two days exploring the Swiss Alps. We learned very fast that Switzerland is not a cheap place to travel and sightsee. The two main day trips people take in the area are the Schilthorn aka "Bond World 007" and Jungfraujoch aka "Top of Europe".
Both places offer incredible experiences in the Swiss Alps but have a big price difference between them. The Schilthorn runs around €90 euros a person, while the Jungfraujoch cost about €180 euros a person. This is for round trip tickets from Lauterbrunnen, each with different modes of transport to get you to the top.
We decided to book a reservation at the campsite's restaurant called Weidstübli. This was a traditional Swiss restaurant with great views. We had a Swiss cheese fondue to start, split a veal schnitzel, and had a side of Rösti which is like Swiss hash browns. We were very impressed and always love getting to try the local food in each place we visit.
We spent the rest of the night researching the next two days activities and what routes we wanted to take that would be within our budget. We knew regardless it was going to be exhilarating. Neither of us had taken a cable car or vehicular like this before so we knew we were in for some new experiences with amazing views.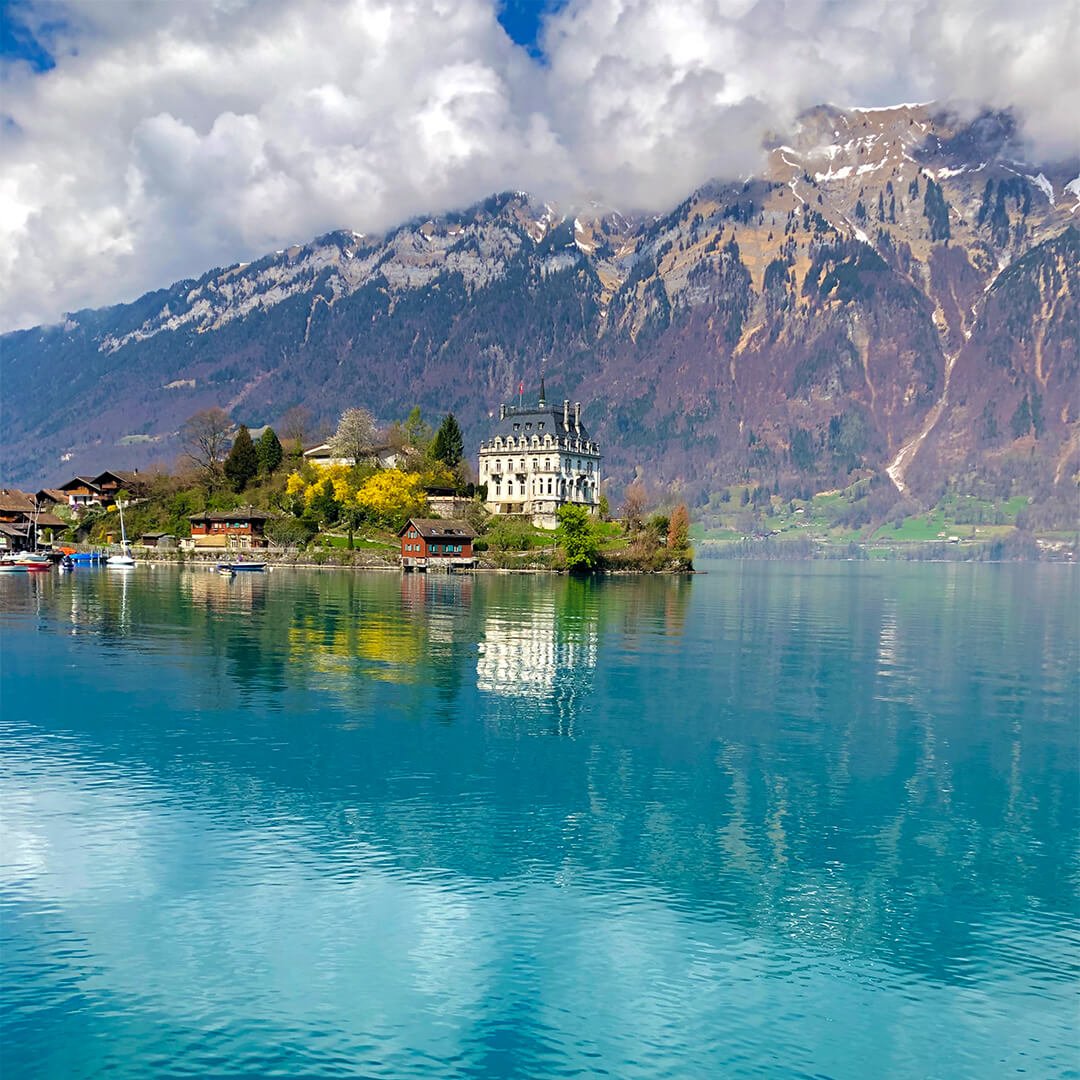 Day 11-
We decided today was the day that we felt like James Bond… We decided to venture to The Schilthorn via train and cable car to "Bond World" and the "007 Walk of Fame". We even booked a reservation for lunch at the revolving restaurant that sits 2970 meters (9,744 ft) at the summit of the Schilthorn called Piz Gloria.  
We bought our tickets from the campsite since it gave us a discount and was convenient. We then walked 15-minutes thru the town to the train station.
It was a perfect day. Not to cold, with the sun shining. The entire ride up the mountain was insane. Between the waterfalls and the views, it definitely moved to the top of most amazing places we have seen in the world.  
The first village we strolled through was Murren. This is a postcard like village that has Switzerland mountain village written all over it. The Swiss architecture with the towering mountains all around felt like a dream. We grabbed a coffee and headed to the next cable car that would ultimately take us to the top of the Schilthorn.
We climbed higher and higher in elevation until we were at the top of the snow-covered peaks. We had the most amazing 360-degree views of the Swiss Alps. We hiked around to the different viewpoints before our lunch reservation. Our dream for so long was to stand exactly where we were standing at that moment.
We were excited to have the opportunity to have lunch in such a spectacular restaurant. It takes 45 minutes to rotate all around, passing more than 200 different mountain peaks. We enjoyed our time here and decided to venture to the to the Thrill Walk at Birg next.
This "walk" had our hearts racing. From glass platforms suspended high on the cliffs edge to steel wires you had to walk across, you will never forget this adrenaline activity! It is definitely not for the faint hearted but a must when visiting the area.
After all the hiking, eating, and adrenaline it was time to make our way back down to the campsite. The journey back was just as breathtaking. There are a couple of different routes you can take to get back to Lauterbrunnen. We opted to go the same way we came to avoid having to take a bus back, plus it was quicker.
We couldn't believe what an epic day we had. It wore us out, but we were excited to keep exploring the area the following day.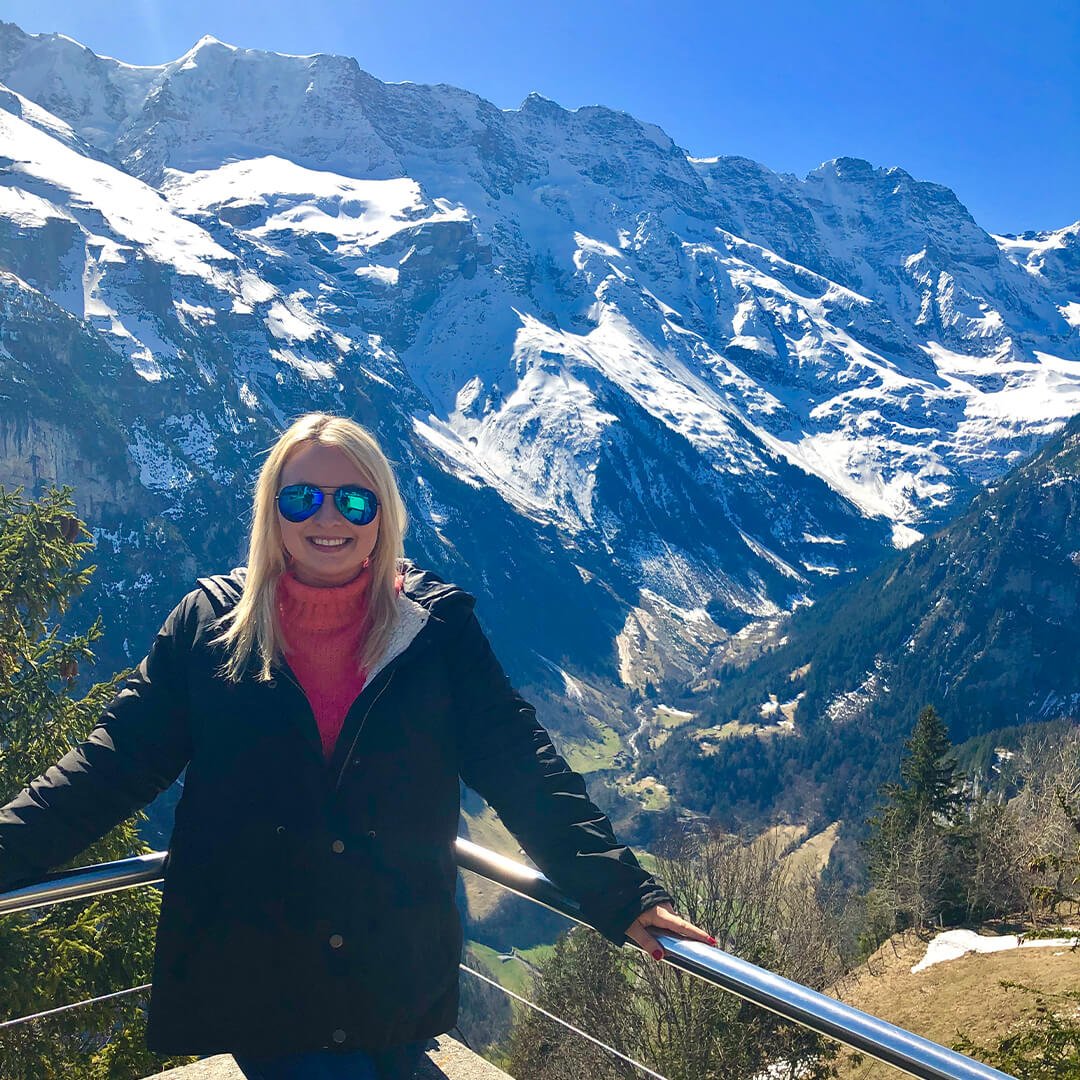 Day 12- 
As much as we would have loved to go to the "Top of Europe", we decided that it wasn't in our budget this time around. We always try to leave something to do in each destination to give us a better reason for going back!
Today we decided to take a more relaxing adventure. First, we hiked thru the Lauterbrunnen valley to Stechelberg cable car. Everywhere you looked you saw waterfalls towering down the steep valley cliffs. There are 72 waterfalls in the valley to be exact. We then hopped on the cable car to Gimmelwald, Switzerland. This Swiss Alp village sits 4,472 feet above sea level offering amazing views of the mountains and Lauterbrunnen Valley below! 
It felt semi-off the beaten tourist path, as we only saw about 25 people our entire time up there. It was so peaceful. We ended up grabbing lunch and beers at the local hostel as this was the only thing open. Needless to say, our views were perfect. We even saw 3 avalanches in the distance while eating which the owner said was a regular occurrence at this time of the year. 
After lunch, we kept hiking around enjoying the scenic views and cute mountain houses. Some of the farmer's homes have honesty boxes where they sell homemade meats, cheeses, and butter from. We highly recommend getting some. It was some of the best meat and cheese ever! We found a bench to relax on, snacked, and soaked in the peacefulness and views!
After a day of hiking around the mountains, it was time to call it a day as we had a long drive tomorrow!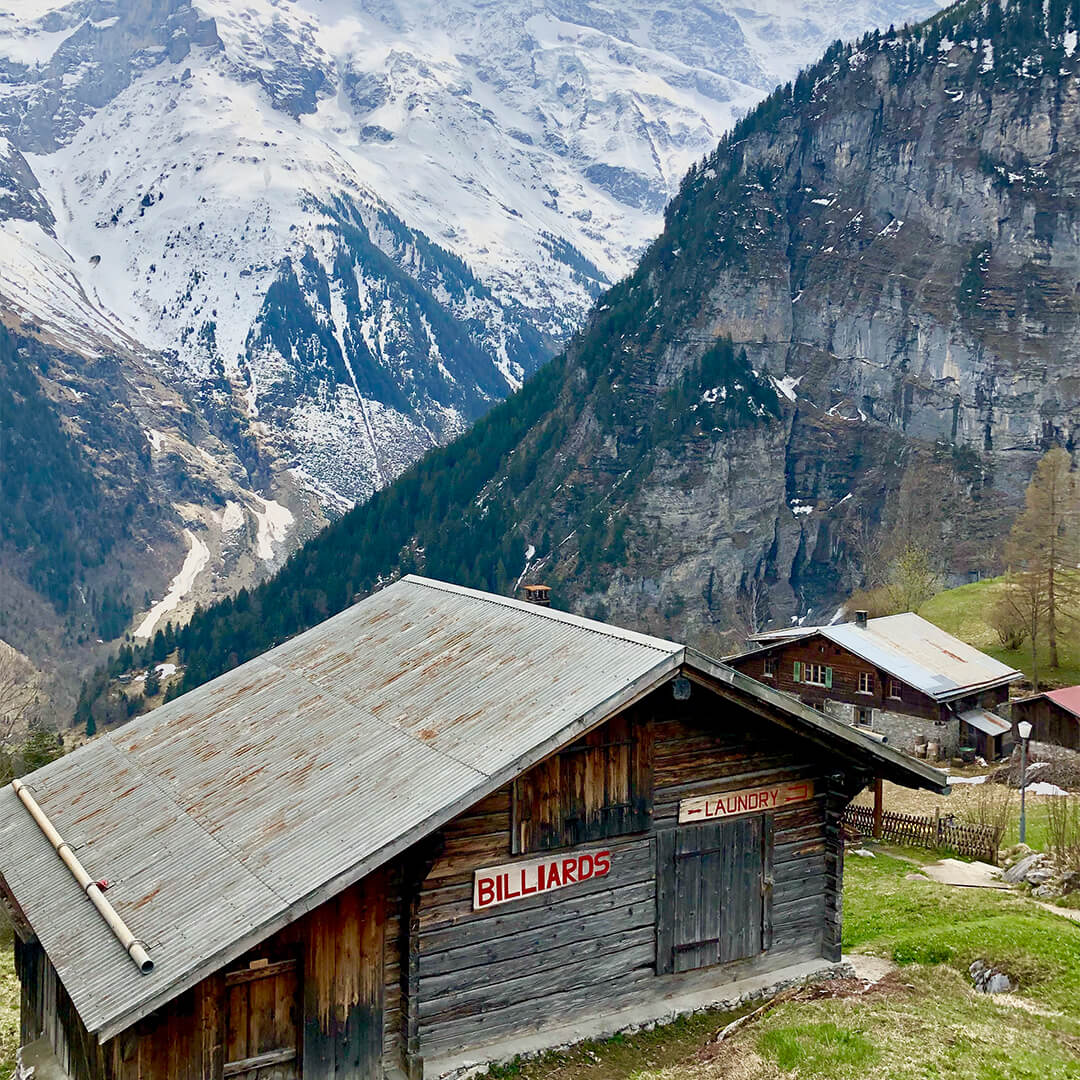 Day 13-
Today was the day we were driving from Switzerland to the Netherlands! This took us 10 hours after stopping a couple of times along the way. It was a long day, to say the least, taking us directly through Germany, but it had to be done in order to have a few days in Amsterdam.
We didn't realize, but this weekend was Easter weekend, making it pretty much impossible to find a campsite in Amsterdam. After calling heaps of campsites, we finally found one near Haarlem. It didn't have any electricity for the first night, but we were hoping to get some the following nights. 
We decided to catch the bus into Haarlem that night to grab some dinner. It is such a cute place which is why they call it the miniature Amsterdam. We had dinner along the canal and found a Texas BBQ joint to grab a drink and appetizer at. After a long, but successful day we fell asleep excited to go explore Amsterdam.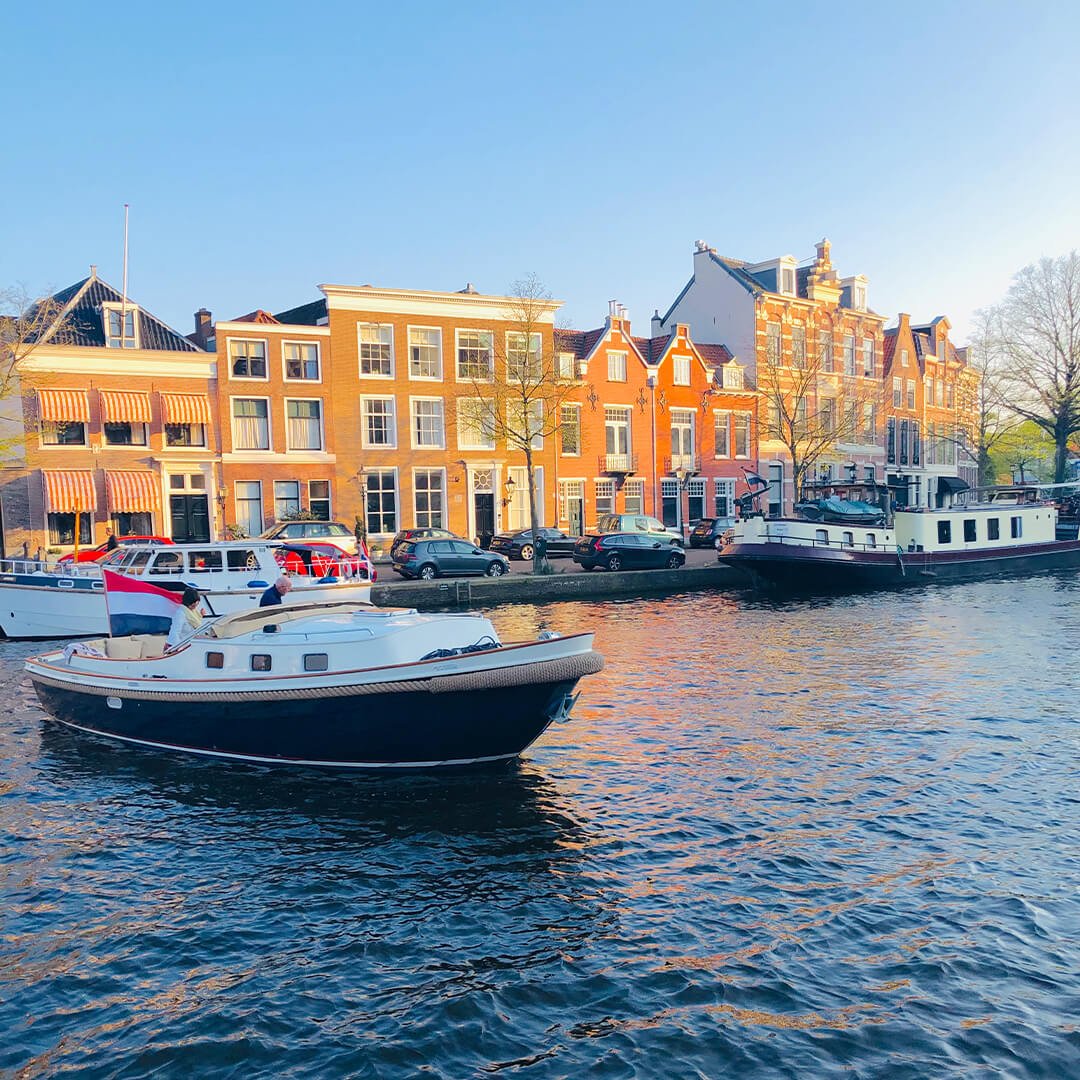 Day 14-
Amsterdam has always fascinated us, and we were excited today was the day we got to walk around aimlessly like a tourist. We had no real set plan except to explore the canals, eat a lot of food, and people watch.
It was safe to say we accomplished this and then some. We were even rewarded with the most perfect sunset over the Amsterdam canals.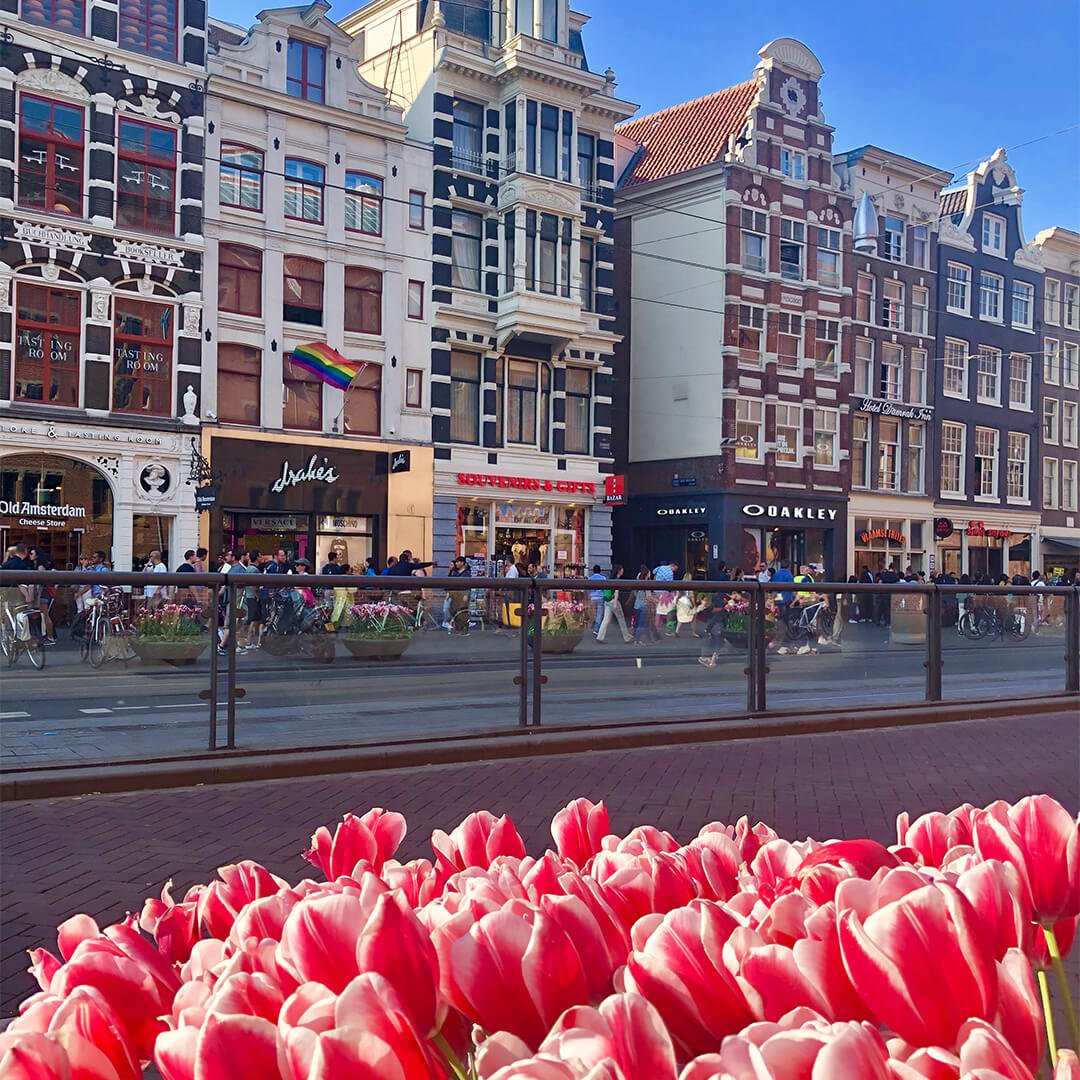 Day 15-
Two words for today- Tulip Fields. The Netherlands is known to have some of the best tulip fields in the world. We drove the RV in search of these colorful fields. We headed about 1.5 hours outside of Amsterdam to an area called Tollebeek. There was a tulip loop that you could drive to see a variety of different colors of tulips.
There were seas of bright colors for as far as you could see! It was so much fun taking photos with the different colored tulips! You must put visiting the Netherlands tulip fields on your bucket list!
We headed back to the campsite and decided to take the bus back into Harrlem as there are great restaurants in the area. We caught the sunset over the canals again and enjoyed the rest of the evening in the city. We were sad this was our last night in the Netherlands, but onto Belgium, we were headed.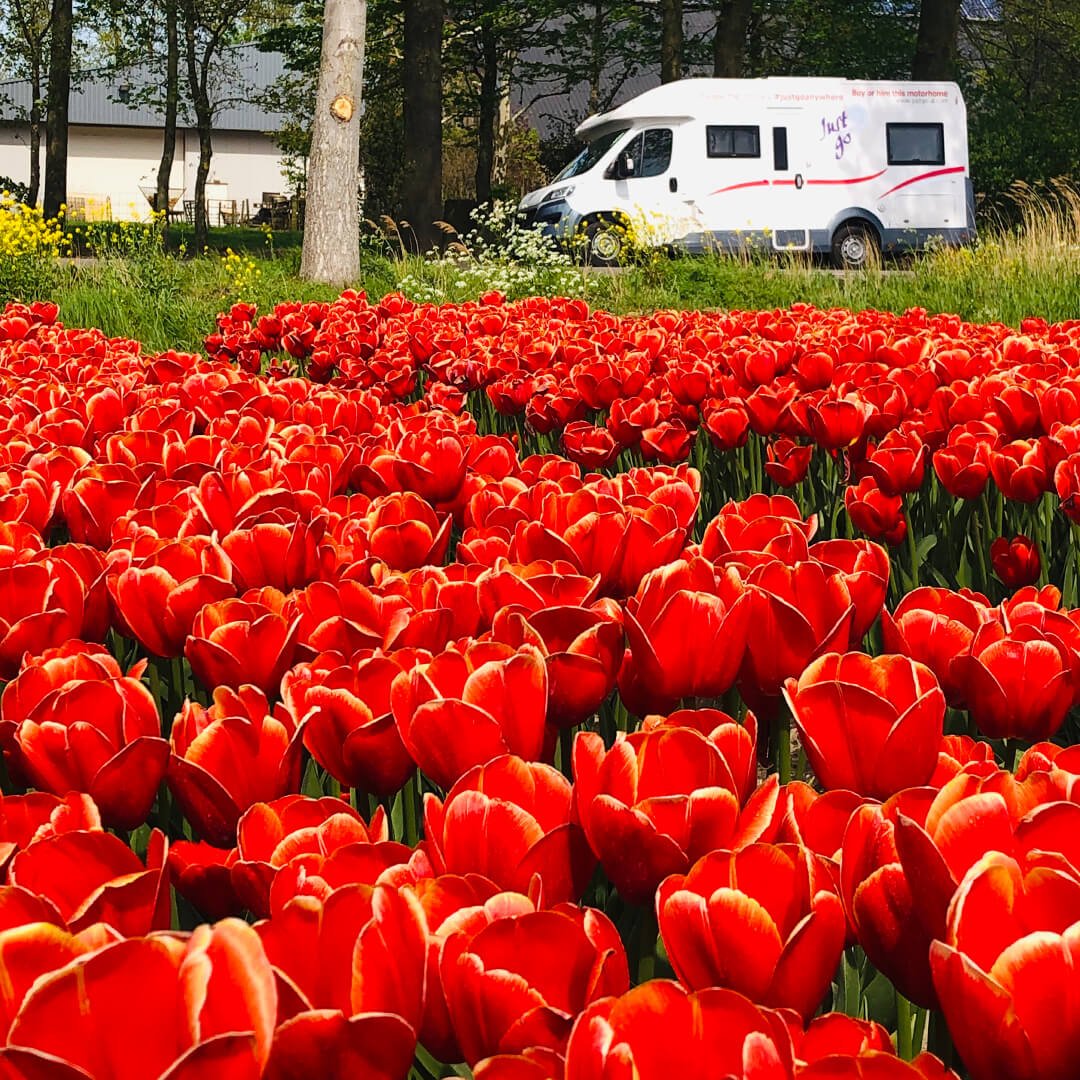 Day 16-
We were ready for Belgium waffles and beer. We had one night along the Belgian coastline before heading to the Ferry Terminal in Calais, France. We had about a three-hour drive to our campsite named, at 't Minnepark in Bredene, Belgium. We hadn't done much research on the area, but it seemed like a decent little beach town. 
We got there around midafternoon and decided to go for a stroll to the local pub for some food. There wasn't much open or options in terms of food. We did find a place that had an outdoor patio and decided to enjoy the sunshine. We got to try Belgian beer and got a waffle for dessert, so we got to check that off the list of to do's while there.
We headed back to the RV to pack and clean as this was our last night in our lovely home. Traveling in an RV is a different way of life, but we love it. It is such an awesome way to see Europe!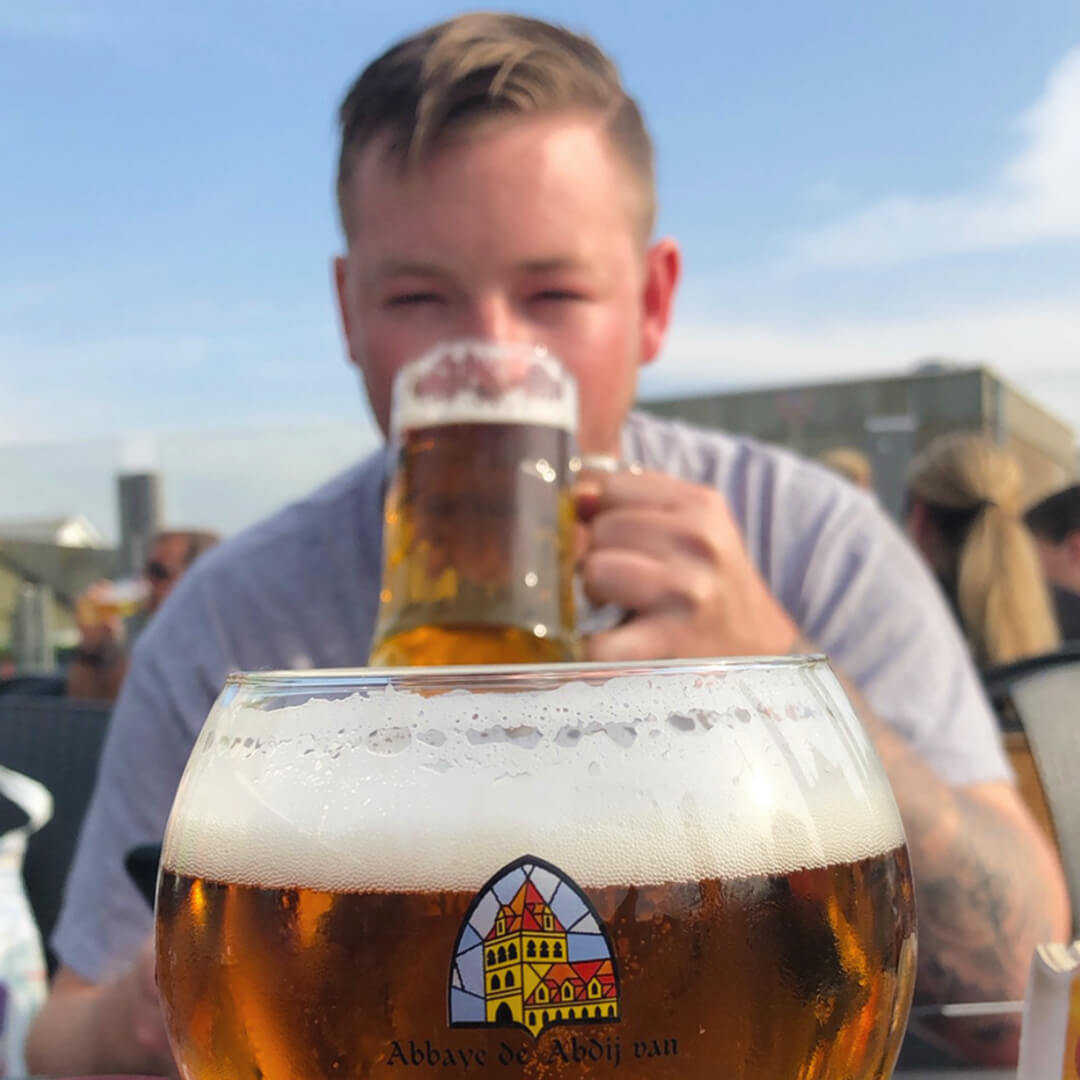 Day 17-
It was time to catch the ferry back to Dover, England. The ferry left from Calais, France which was about an hour and a half from our campsite in Belgium. We had our tickets booked in advance, so it was hassle free when we arrived.
We had to go through customs since we were leaving the EU then go back through the UK customs. Our passports got checked 3 times, and our RV got searched before being able to drive onto the boat.
It was a quick 1.5-hour ride. The ferry has a bar, restaurant, and lots of lounge areas since you aren't able to stay inside your vehicle while crossing. Once we got close to the shore of England, you could spot the White Cliffs of Dover. These cliffs are extraordinary to see. We drove off the ferry and headed toward our end destination, the Just Go RV depo north of London. It was about a 2.5- hour drive.
We couldn't believe 2,500 miles later, we were about to drop off what we had called home the past two and a half weeks. So many memories were made, and it was such a wicked adventure to get to experience. We'd just like to give Just Go RV's a huge thanks for making this dream a reality and highly recommend everyone to experience camping in an RV in Europe.
If you are ready to experience your own RV adventure in USA, Europe, New Zealand, or Australia make sure to check out thl RV Travel Brand.